UV Blacklight Inspection Lamps
UV inspection lights provide a convenient, versatile quality control method for a wide range of applications. No matter what industry you're in, professional blacklight inspection is a necessity for high-quality manufacturing processes.
LUYOR proudly distributes a full line of Inspection Systems. Thousands of companies worldwide trust our UV blacklight inspection lamps to play an integral role in their processes and products for a wide variety of industries, including:
.Medical
.Food
.Scientific
.Security
.Industrial
.Public service

Contact us for more information on our UV blacklight inspection systems, or request a quote by clicking on any of the items below.
Benefits of UV Inspection Lights
Professional UV inspection lights make excellent quality control systems, providing fast response times, high resolution, and increased operating ranges. They are designed to be easy-to-use and versatile, making them perfect for a wide range of applications.
Whether you're looking for UV Inspection cabinet, UV flood lamps or handheld blacklight inspection equipment, UV inspection lights also provide:
.Lightweight and portability
.Close-range illumination
.Cost-effectiveness
.Additional safety
.Ease of maintenance
Typical UV Inspection Lamp Applications
For a variety of industries, professional UV inspection lights provide a convenient, affordable quality control system.
NDT Crack Detection
UV-A inspection lamps are used for highlighting cracks in safety, critical aerospace, and automotive components during dye penetrant and magnetic particle fluorescent processes.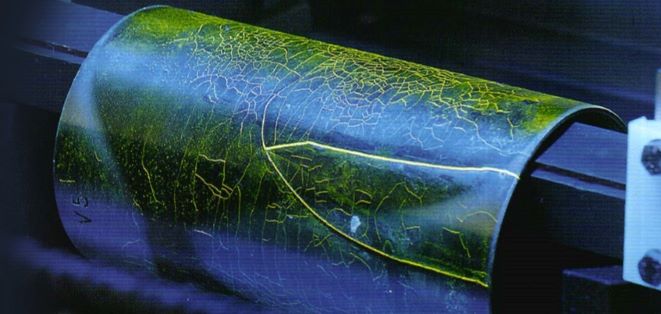 PCB Conformal Coating Validation
UV-A inspection lamps are used for quality control inspection of printed circuit boards.

Micro-Contamination Detection
UV blacklight inspection lamps are used for:
Highlighting particulate micro-contamination during cleanroom validation and surface cleanliness checks before applying coatings
Inspection of LCD screens for quality control
Inspection of medical-grade textiles for detection of contamination
Fluid Leak Detection
UV fluorescent inspection systems can be combined with fluorescent additives mixed with water, oils, fuels, coolants, and refrigerants to reveal leaks on surfaces, pipework, joints, and coils.
Cleanliness Monitoring
Professional UV inspection lights are used to reveal invisible contamination on surfaces, highlighting areas either missed or not cleaned properly. Ideal for audits, evaluating different cleaning products and training staff.
Textile Manufacturing
UV light inspection equipment is used for quality control of textile materials and products. Applications include identification of fiber yarn mixes within a cone, cloth or beam. This also includes contamination of raw materials such as cotton, or oil stains on carpets from weaving and tufting machines and particulates in medical non-woven fabrics.
UV Scenic Artwork and Special Effects
UV blacklights are used in combination with UV reactive materials for creating spectacular special effects, including single and dual image, 3D, invisible/UV revealing and Trompe-l'oeil. Applications include entertainment, promotion and advertising materials.
Paper Manufacturing
UV inspection lights can be used for quality control of paper and paper products to reveal:
Mixes & Contamination
Invisible/UV Revealing Markings on Currency and Security Papers
Egg Inspection
UV inspection lamps are used for quality control inspection of free-range eggs to detect evidence of washing or wiping and highlighting spoilage by bacteria and mold. Currently used by DEFRA egg inspectors, hatcheries, egg packing centers, wholesalers and food processors.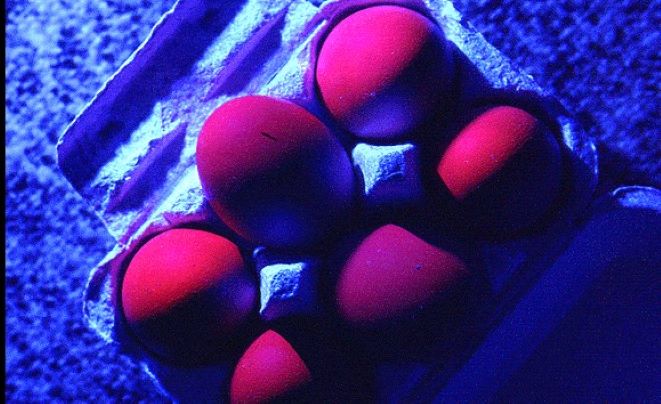 Counterfeit Detection
UV blacklight inspection lamps are used to reveal security markings on items such as currency, credit cards and security documents for verification purposes.
Contact LUYOR for Blacklight Inspection Equipment Today
At LUYOR, we offer a one-stop-shop for all your UV equipment needs, offering a cost-effective, versatile UV system for your manufacturing processes. Whether you're in the medical device or automotive industry, we provide the highest quality products and most extensive knowledge available.